This is one in a line of many (not too many) posts
all about me!
Don't worry, it's not just me talking about me. 2013 has been a good year for me, it seems I have closure on many of the things that used to hold me back from being 'me' and I feel ready to start tackling the last few things that are currently in my way. I wanted to take my positivity and use it to make some changes in me so I joined the
Day Zero project
with a few reachable goals that would put me on the right track.
I have noticed a few posts linking to Pink Oddy's
Motivational Monday
and decided that this would be the perfect way to track how I'm pushing myself in some of the areas that I feel I might struggle with, so here goes...!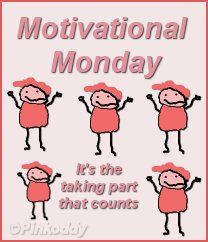 This is probably a boring one but it something I absolutely must do so my main focus is going to be getting back to my pre-pregnancy weight :/ eeek
After Little Miss was born I quickly got back to my pre baby weight but then I was unfortunate enough to get struck by chronic pain & fatigue and a combination of lack of motivation, energy and pain free days, along with dreaded medication that seems to add lbs every time you take one, the weight crept back on.
I've always been rather self shy so being bigger than I'm used to and happy with has put me back in my shell when it comes to socialising, something I really don't want, I want to be out having fun with my children, family & friends.
So here we have it, I'm serious this time, I WILL get back into those skinny jeans.
No doubt I will need some motivation and encouragement along the way but that is why I am joining in with Motivational Monday :) I have many other things I want to improve so don't worry I won't be posting about weight and diets blah blah every week, this is just the first of many things I want to get started on.
My goals for the next week are:
Walk at least 5 miles (I know I know I should be doing that anyway)
Get the Wii Fit set up again and use it for total of 90 minutes.
Drink 2 litres of water every day
Go a whole day without saying I'm fat! PMA needed for this goal.
It's a simple start but hopefully small goals will put me in the right frame of mind without being overwhelming, I'm not in a massive rush to do it, so long as I get there eventually and stay there! Wish me luck