I love TV, it's been a good friend of mine since I was a child. I wouldn't say I'm an addict but by habit we turn the TV on when we are in the room.
I like to have background noise so will put the TV on while I'm settling down with crafts, blogging of pretty much anything else that I am doing.
Today is of course Motivational Monday so I have set myself another goal... Yep you guessed it. More TV down time. TV is a real time waster actually isn't it, and I find myself moaning that there is nothing to watch yet I leave the darn thing on!
From today onward I am going to turn it off every time there is "nothing on" and get on with something productive or read a book or promote my new business (which I will be writing about very soon eeep!!), take up a new course or work on improving some of my hobbies.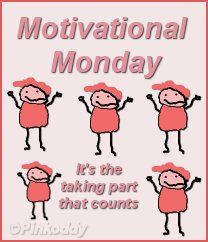 In addition to my previous Motivational Monday posts, I shall now be ensuring I have some proper TV free time every day - deliberately turning off to do something less brain mushing.
By next Monday I aim to 3 read books, prep for my next online course and finish a logo for my business.
Wish me luck!