This is a little bit of a soul baring #MotivationalMonday (eeek) but one I hope will be as useful as my previous Motivational Monday posts have been in terms of giving me the nudge (or in this case probably shove) in the right direction.
Bear with me on this one...
Something that most people don't know about me is that I am recovering from agoraphobia. When I say most people I mean that literally. Many people in my family, even those who I see often, don't know about this part of my life. Not for any real reason other than I didn't want another label hanging over me. That condition doesn't define me as a person. It may make life quite hard, frustrating and at times scary but there is far more to me than that.
I wanted to explain a little about agoraphobia before I tell you what it has to do with Motivational Monday for me. When you hear the word "agoraphobia" you will probably think it means the person who has it stays in 24/7, hiding behind closed curtains. Well yes, sometimes and in some cases it does mean that but there are different forms, and as with practically all areas of mental health, there are different degrees of agoraphobia.
I was diagnosed with agoraphobia early in 2012, 9 months after I started noticing I hadn't been going out much. It started off being easier to stay in, I had 2 children, 13 months apart, they were in different routines, with my baby girl breastfeeding several times a day, and sometimes for hours as we had trouble with milk supply, and my little boy who didn't walk until 17 months wanting to play with his toys and explore his surroundings. He was happy at home, baby girl was content if she could feed and sleep when she needed, it was so much easier to stay home and have people visit me or pick us up to go out anywhere. Nothing wrong with that. Except it became the norm and soon I started feeling stressed at the thought of going out, more than stressed, panicked really.
Strangely people didn't really seem to notice, I guess as we live a little way from family and don't see them daily, it was easy to "fancy a day in". I could just about manage going out when I had someone with me, another adult that is, but would still feel panicked if it was somewhere unfamiliar or particularly crowded.
Time went by and I was soon only leaving the house once a fortnight. I wouldn't put the rubbish out, 2 ft outside the front door, or nip out to the car. An unexpected knock at the door would have my anxiety soaring and then it hit me, I had been like this for months and it wasn't normal.
Eventually I saw a Dr and a therapist who diagnosed me with agoraphobia and believe it or not I was shocked. I hadn't really wanted to accept it was as bad as it was but there it was and it did make sense.
That was 18 months ago and my husband and I, along with a few close friends and relatives who do know, have been working on getting things back to normal ever since. It's a long road, one that I'm certainly not near the end of yet, but I'm travelling along it in the right direction now. I have a few little routes I'm happy doing alone and as you know have started attending Splat Messy Play sessions (something this time last year I never thought I'd manage is a baby group!) and making friends again.
Now that you know my secret some of the things I have mentioned in previous posts may make more sense.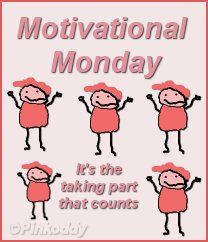 For #MotivationalMonday this week the goal I'm setting myself, the thing I need some motivation with and support for, is to push my boundaries a little more each week. Spend more time outside, whether it be in the at the park, shops or just in the garden.