Tut tut! Naughty me has been AWOL for a long time! I have been super duper busy with my
new business
, the kiddies and general life - you know how it is.
Which brings me to my #MotivationalMonday post for this week (yet again I'm not sticking to the Christmas theme that the lovely Pink Oddy has posted about- oops).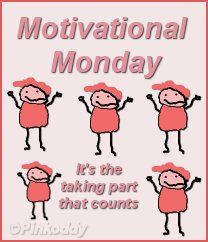 I need to take time out to spend with my husband... We have both been off work and at home together for a good few months now but we really spend very little time together, all part of being a busy family I suppose but it's quite sad when you miss somebody that you spend most of your time with.
So I've decided we need to make more of an effort to grab time together when we can, date nights at home while the children are in bed, a half hour walk together when the little ones are at nursery and maybe the odd evening out if we can get willing volunteers to baby sit (and yep if we know you in real life that includes you haha).
My lovely hubby is going to be working soon so we will have less time together, planning may well be the key here and that is something I'm still working on, being organised and all that, but I have made the first step to a date with my hubby in the near future and booked us one of
these
afternoon tea thingies at Cadbury House Hotel! I love afternoon tea, a chance to get some nice clothes on and spend a civilised afternoon together - amazing! I'm excited already.
Need to work out some other plans too but lacking in imagination somewhat, will be making myself a "date night" Pinterest board any minute now ;) I'm looking forward to this, getting to know my husband all over again, who doesn't love a bit of romance?